/'pasij/
2021
Installation; flag, motion graphics
Hallway, tunnel, corridor, etc. We can easily identify the shell of a liminal space. But we often neglect the carrier/passenger that moves through liminality. Unlike other common carriers, the elevator moves up and down, with limited and encapsulated inner space, resulting in a blinded sense of transition during its ride. In these countless short rides, most people simply do nothing (maybe more cell phone browsing with 5G!). But interesting attempts were made to fill the void — overwhelmed advertisement, elevator pitch, map, and signage, etc. COVID also tweaks it a bit with fewer people but more signs contained. By reiterating the visual, audible, touchable impression of my elevator rides, I hope to reconstruct such commonly ignored liminal space and explore inspiration from it with my audience.


ART.EDU/CHINA
2020
Curated Publication

The book focuses on the underpaying marginalized designer community in China, which is systematically resulted from its problematic high school art education. Based on my research and personal experience, I have concluded six aspects of the issues and strived to find possible solutions with respect to them. More importantly, I hope my findings can advocate the urgency of reforming art education in China so that more policymakers and activists can provide more professional practices to ameliorate the marginalization of Chinese high school art students.
Structure + Morphology
Light the Lantern
2021
Interactive Installation
Light the Lantern is created to reflect on a Chinese film "Raise the Red Lantern" with my developed visual narrative.

The installation retells the story from the film that woman who were oppressed and objectified in the feudal society. It vividly shows the life situation of women in the patriarchal society, which criticized the feudal order and patriarchal power. The space represents a Chinese architecture Siheyuan (a quadrangle courtyard with 4 walls). Audience move closer poking a hole to watch the video echos that when people wanted to stalk anyone in the ancient China, they needed to poke a hole with their fingers. The inside and outside build up two spaces that watching Warlord era from 21 C perspective.
INTO THE DESERT
2021
Installation
Booklet; website
INTO THE DESERT is a visual reflection of me and my fiance's vocation in Morocco. We had a special and memorable time in Morocco. We had the chance to meet people from different cultures, traditions, and lifestyles. This work reflects not only the data archive images that I documented vocation but also the memorable stories.
Authority & Official
2020
Thesis Project
Printed Books; performance (2 x 10 inches); (4 x 11.5 inches)
This work documents the outbreak of the coronavirus disease in China. In the early stage, due to the cover-up and censorship of the government, facts on the epidemic were not fully understood, which caused delayed actions in response to the outbreak.
Now that the coronavirus disease has developed into a glogal pandemic, I would like this work to not only echo sympathy for people who have been affected by the disease, especially the doctors and nurses, and the
'
whistle blowers
'
who lost their lives, but also to learn from Chinese experience, to promote early prevention. The other takeaway from this project is how governments manipulate and fake information.
Book#1 "AUTHORITY":
Link
Book#2 "ARCHIVE":
Link
Performance: Remembrance:
Link
Book Cover Proposals
2021
Grad Typography
Trime Size: 6.7 X 9.4 inches

The 6 proposals are designed for the 2 books "The Constituent MuseumConstellations of Knowledge, Politics, and Mediation" and "Faceing Value" by Valiz.
A Book Collection
2020
Grad Typography
Library Printed Booklet (5 X 8 inches)
The booklet is combined with the typographic list with 10 titles from my own personal library of graphic design-related publications and 25 books from BU library. Through this practice, I pushed the limitation of using methematic grid system to organize the typographic hierarchies. I used different typefaces, scales, and colors to emphasize the books that are more or less relevant to my current interests in graphic design.
Are You Faking for Real?
2019
Thesis I
Book; Zine; Poster; Videos on monitor, Slit scanned live stream
This thesis project started in September 2019 and is currently in progress. The inspiration came from the fakery in media, art and daily life. 'Fake' as an artistic term is usually unethical and unwelcome, while 'fake' as a sociological term is generally neutral, and sometimes beneficial. Based on my preliminary research, faking often lead to two possible results: the truth being either permanently replaced or temporarily covered by the fakery. My project aims to visualize how people fake in communication and understand the purpose and outcome of such behavior.
50 Iterations for BURO poster
2020
Grad Graphic Design
Printed Newspaper; Photoshoot (18 X 24 inch), (11 X 17 inch)



The goal of this project was to create 50 iterations of a historical poster. I chose a 'buro' poster designed by Theo Ballmer in 1928. The original poster was created for an office furniture exhibition in Basel. After analyzing and deconstructing it, I created 50 different compositions using its building block and colors. In order to have the final form reflect the content of the original piece and enhance the audiences' engagement with the office product. I made a setup of the photographs, newspaper, and an exhibited booklet.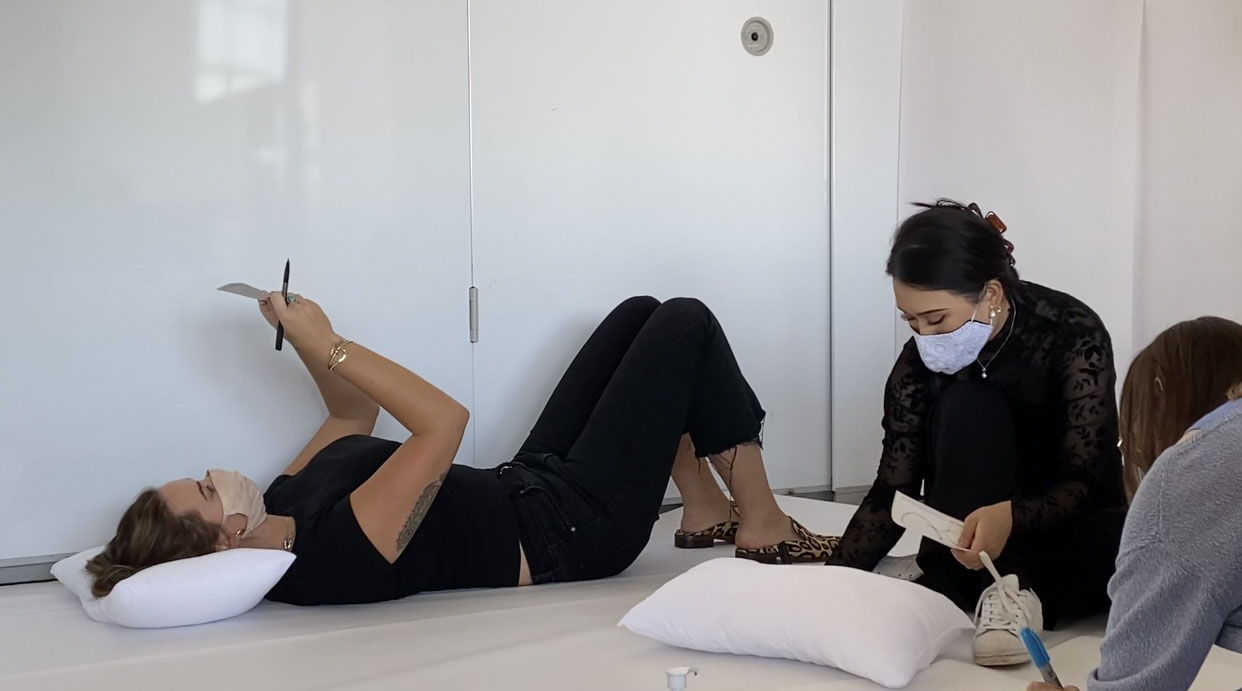 White: Zen
2020
Grad Graphic Design
Conditional Design; Documentary (03:36)
White is a less aggressive color, which doesn't conflict with any other colors. People recognize 'white' diversely in different cultural background. One of the reasons is the characteristic of flexibility from white, which finally leads to my concept theme of inclusiveness of white. I took 'white' as a medium to intellectually awake people's sensibility of the relationship among white and inclusiveness. I curated a white interactive space and an audio piece that audience are welcomed to respond their identity and personality, etc. The analogue experience focused on the engagement from audiences. The digital documentation showcased my narrative observation by analyzing their conscious and subconscious behavior.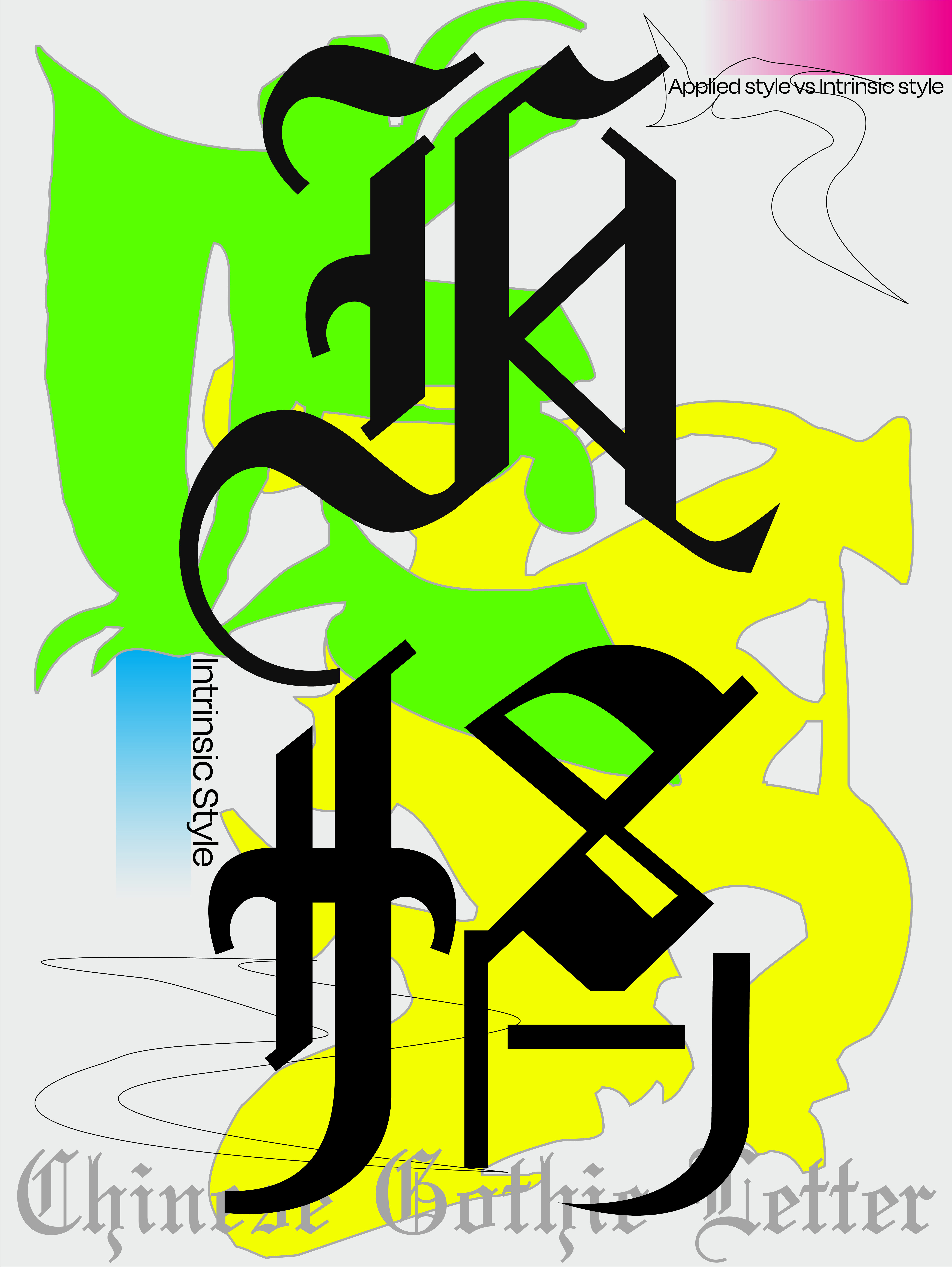 #blackletter with the term "applied style vs. intrinsic style"
2020
Grad Typography
A serious of 10 posters (18 X 24 inch)

Based on the historical and contemporary context of blackletter. The posters aim to showcase the meaning that black letter carries and then interpret it with the term applied style vs. intrinsic style from article Neomanina: Feeding the monster by Anne Burdick.



A Book of Square Words
2018
Typography
Book (6 X 7.5 inch)
This hand-crafted book directs a type-based exhibition catalogue thatreflects my study of Chinese artist, Xu Bing and his signature works. It utilizes a dynamic column structure to integrate typography and imagery in a creative way. I specifically chose the type of paper an binding method to match the characteristics of Xu Bing's works for my editorial design.